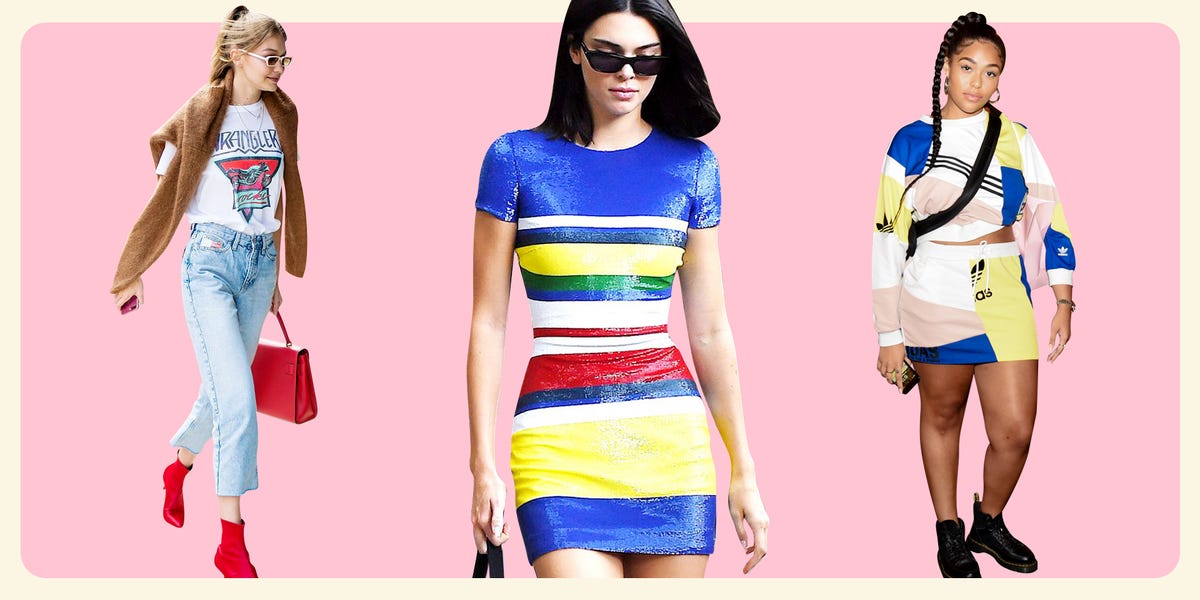 It's time to crawl out from beneath that pile of chunky knits and puffer jackets you call a winter wardrobe and embrace springtime fashion. Now that the air outside doesn't actively hurt your face, you can officially bring your beloved skirt suits, cardigans, and mini dresses out of hibernation and into that fresh spring light.
Here are some of the coolest, most inspiring spring outfit ideas and fashion trends you'll want to screenshot and copy later.
Pretty Statement Sleeves
Along with basically every other '80s trend, puff sleeves are in the middle of a massive resurgence (as you've probably already surmised from your Insta feed). Aimee Song made the detail feel brand new by wearing just one sleeve off-the-shoulder – a style secret you should definitely steal.
What you'll need: Ruffle Trim Lantern Sleeve Swiss Dot Top, $17, Shein
SHOP NOW
Matchy-Matchy Pastel
After four solid months of nothing but blazers and turtlenecks, you're probably sick of your most trusted dressy pieces. Keep that same professional energy for spring with a pastel blouse-trouser set that mimics a sleek suit. Wear with sneakers for a shot of chillness.
What you'll need: Light Pink Tapered Trouser, $18, Boohoo
SHOP HERE
Punk Rock Layers
There's nothing in the fashion world I stan harder than femmes unashamedly showing off their bras. If you don't feel comfortable walking around in a bustier a la Khloe Kardashian, give Hayley Kiyoko's styling trick a try. She layered a structured strapless dress over a little lingerie top, over a graphic.
What you'll need: Savanah Square Trim Corset Dress, $66, superdown
SHOP NOW
White Denim (With a Little Tie Dye)
Tis the season of bright-white denim! Throw on some sunnies to protect your eyes from the glare off of your pants, jacket, shoes, socks. Then finish with a splash of tie dye, just for that necessary dose of spring color.
What you'll need: Sade Crystal Crop Tank, $145, Frankie B
SHOP NOW
Relaxed '90s Inspo
Not everything in the '90s was Posh Spice and grunge. Selena's button-up midi/oversized knitwear serves up sweet-girl vibes that still feel authentically 1999.
What you'll need: Floral Midi Dress With Button Detail, $28, ASOS
SHOP HERE
Cool-Girl Suit
A bright springtime color will make your profesh set pop. Pair it with neutral details to bring the outfit down a notch or add on even more color to truly embrace the spring aesthetic.
What you'll need: Pink Longline Blazer, $45, Pretty Little Thing
SHOP NOW
Vibrant Primaries
Skip the played-out pastels, instead try a mix of electric primary hues. Cobalt blues, crimson reds, and canary yellows will go perfectly with those white sneakers you missed so dearly during the winter months.
What you'll need: Striped Sweater Dress, $69, Urban Outfitters
SHOP HERE
Shrunken Ruffles
For some reason warm weather brings out the girly girl in all of us. Suddenly you find yourself buying ruffled crop tops and mirrored heels. Add white pants and you've got a whole look.
What you'll need: Ivory Ruffle Crop Top, $32, Tobi
SHOP NOW
A Girly Floral Dress (Because, Duh)
If you didn't wear a floral dress and cardigan, did spring even happen? (Answer: no.) Copy this Betty-inspired look with sneakers for a toned-down fit you can wear to class.
What you'll need: White Floral Smocked Dress, $57, Lulu's
SHOP NOW
Far Too Much Neon
If you've learned anything from the Kardashian/Jenners Instagram accounts, it's that neon is IT, hunny. A full suit in highlighter hues would be a major overkill, but a cropped short suit is just the right amount of extra.
What you'll need: Satin Double Breasted Blazer, $43, Boohoo
SHOP NOW
Spring-y Reds
You don't have to trade in your reds for watercolor hues just because the weather is no longer sub-zero. Just add light wash denim and ample amounts of white to balance out the rich saturation.
What you'll need: Red Sock Boots, $55, H&M
SHOP HERE
Modern All-White
Ari is a whole mood for spring. As soon as that warm weather hits, you'll be living in oversized sweatshirts, over-the-knee boots, and PVC accessories.
What you'll need: "God Is A Woman" Crewneck Sweater, $60, Ariana Grande Shop
SHOP NOW
Sporty Graphics
Athleisure is appropriate for every season, but the colorful geometric print makes this co-ord set feel so spring. Jordyn added punky combat boots and a cross-body fanny pack for a little edge.
What you'll need: Off-the-Shoulder Rainbow Originals Top, $22, Adidas
SHOP HERE
Peek-A-Boo Cardi
Feel the sun on your navel once more when you try Bella Hadid's ultra trendy sweater hack. Fasten one or two buttons too add an edgy twist to a closet staple that would otherwise scream "soccer mom."
What you'll need: Lavender Chunky Knit Cardigan, $8, Charlotte Russe
SHOP HERE
Elevated Vintage
If you don't style it the right way, a buttoned midi dress can look borderline grandma. Whatever you do, do not add a cardigan. Instead, keep those shoulders bare and stack on trending accessories. Square toe boots (or those '90s strappy sandals) and a micro bag transform the matronly silhouette into a full-on lewk.
What you'll need: Button Front Square Neck Midi Dress, $80, Express
SHOP NOW
Sleek Khakis
You wore these khaki pants basically all winter long. If you're not over the utilitarian look yet, pair them up with a simple white crop and matching shoes for warm weather.
What you'll need: Cobain Khaki Pants, $109, I Am Gia
SHOP HERE
Mismatched Neutrals
Not into vibrant colors? Take your all-neutral wardrobe into warmer weather by piling on taupes, whites, grays, and browns.
What you'll need: Gray Sleeveless Turtleneck, $20, Free People
SHOP NOW
Kelsey Stiegman
Senior Style Editor
Kelsey is a stylist, writer, and editor with a fashion obsession and social media addiction.

Source